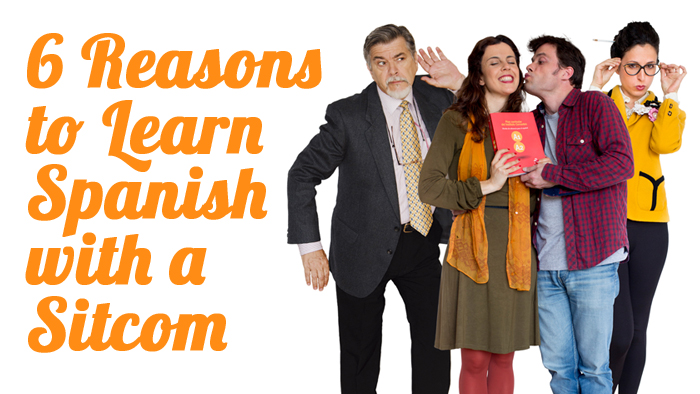 We've all been there: you want to learn a language but the thought of where to start is almost more difficult than the task itself. Not only that, but you haven't got time to pore over Spanish grammar books every day, so your dream of travelling the world effortlessly chatting to natives never gets off the ground. If only there were a TV series you could watch and come out the other side speaking Spanish...
Well, fear not! Publishers Habla con Eñe have spotted this gap in the market and produced Spanish Sitcom: a series of short Spanish language episodes for beginners produced on two DVDs for levels A1 and A2, which I think are a great way to start learning a language. There are lots of things I like about Spanish Sitcom, but I've narrowed them down to my top 6 favourite things which could help you out of your language learning lethargy:
Fun! Learning a language should be enjoyable and what's more fun than getting to feel productive while enjoying yourself? Spanish Sitcom has an entertaining storyline that really encourages you to rewatch the episodes and chuckle while you learn.
Speed. If you're anything like me, you don't have time in the day to dedicate to hours of language learning, so speed is of the essence. The 10-minute bitesize lessons mean you can learn the fundamentals of Spanish over a cup of tea and return to other pursuits in no time.
Originality. Unlike other beginners' products I've seen, Spanish Sitcom is made specifically for adults and is comical without being patronising. The unique storyline and light-hearted context of each scene, I think, helps with the process of understanding and retaining new vocabulary.
Authenticity. You can read as many Spanish books as you like but they won't help you roll your Rs! Watching and listening to native speakers allows you to hear how the language is actually supposed to sound and will hopefully minimise confusion when you talk to Spanish speakers. An added bonus is that all the vocabulary in the episodes is applicable in both Spain and Latin America.
Convenience. I find the sheer volume of language textbooks off-putting when I think about sitting down to learn some grammar. The nice thing about this DVD is that you can simply put your feet up as you watch an episode and learn at the same time. And you won't need to extend your house to fit in any new textbooks.
Individuality. In my opinion, there's nothing worse than being stuck in a Spanish class that is going too quickly or slowly for you. What I enjoy about learning from a DVD is that you can go at your own pace and repeat things as many times as you need to actually learn español

para

s

iempre

.
If Spanish Sitcom sounds like your thing, you can find it here.
Beth
The Languages Direct Team